Since I've done a lovely personal-ad-esque post for Garrett, it seems only fitting that I do one for one of my very very best friends, Jenna (
because I think that she's my only single friend that reads the blog).
Jenna and I met in 6th grade elective class (
4th hour, we seriously had the best class...)
because neither one of us wanted to be in band. Since our last names are so similar, we were often seated together when teachers used that oh-so-creative-alphabetical-by-last-name seating chart. Since she came from a "big" elementary school she knew a lot more people than the measly 5 I knew from my little country school. One of the first memories I have of Jenna is sitting in Art class and asking her what was written on her shirt. I felt stupid, yet enlightened, when she said "You've never heard of Abercrombie?" And thus our friendship was born....
Now, here are the reasons why I love Jenna and why you should too:
She's smart - This girl has a Master's in accounting from MSU (go Spartans!) and passed her CPA exam on the first time through. She's well on her way to becoming partner at Ernst & Young : )
She knows how to have a good time. I can't even count all of the times we've had fun together! (Mostly because there have been a lot, but partially because I've been a little tipsy, too) Last night I was talking to Josh and he said, "Remember that wedding where you and Jenna were trashed and had a lot of fun?" and I told him he had to be more specific because there have been quite a few within the last 6 months... We can have fun whether we're out for drinks, taking a road trip, or just curling up with some popcorn and watching a movie at her house.
She loves sushi and wine. None of my other girl friends will eat sushi with me! Sushi Ya in EL and Red Ginger in Traverse City are our favorite places to go. (PS: I still owe you a sushi lunch!!) Memorial Day weekend we did a tour of Traverse City wineries and had a blast. She never makes me feel like a lush because she just drinks right along with me. Mmmmm.... (PPS: we are wayyyy overdue for a glass bottle of wine and gossiping!)
Her parents are hilarious. Good old Brenda and Joe - you never know what to expect (in a good way).
She's my favorite person to shop with! Jenna loves the same things I do (cute shoes, Coach purses, The Limited, good bargains, accessorizing, and eating a lot after a hard day of shopping) so it's easy to spend all day in a mall with her. Plus, she always assures me that I "need" whatever I'm contemplating buying, so it cancels out the buyer's remorse : )
Jenna is a die-hard Spartan fan! Football games, basketball games, tailgating... this girl does it all, and she lets me tag along! (MSU tailgating is WAY better than SVSU or GVSU ever thought of being) We've had lots of fun watching games together, whether it's at the actual game or at a bar (The Riv with Nancy and Steve??? haha...)
She's always up for anything. Road trip to Chicago? Wineries in Traverse City? Tigers game this weekend? Casino? Shopping? Food? Drinking? All of the above! Jenna is the one friend I can call up and say "hey, let's do [insert fun random spontaneous activity here]!" and she's ready to go (even though she's probably running about 10 minutes late). Love it!!
So for all of you single guys out there - I highly recommend meeting Jenna. She's fabulous, as you can see, and will prove to be lots of fun!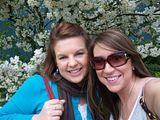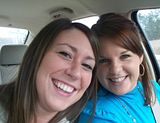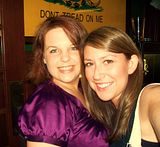 Sadly, not all of my pictures have made it to photobucket so I'm lacking in the pics of Jenna and I. Booo...